The KIP 940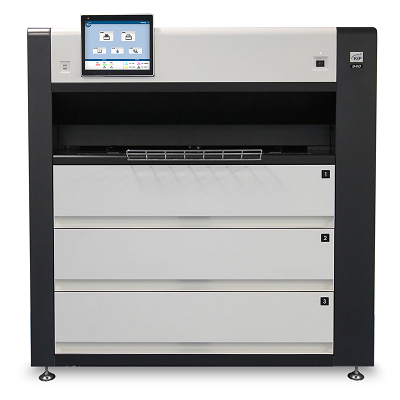 Overview
High Powered Color
The KIP 940 is a color and black & white high production print system. The system is a comprehensive solution for all types of wide format printing tasks that require the highest levels of quality and performance.
Up to 3,500 sq. ft. / 325 sq. m. hour in color
Up to 4,200 sq. ft. / 390 sq. m. hour in b&w
CMYK Dry Toner System
Range of Media Types
Waterproof & Lightfast Images
Smart, Multi-Touch Controls
All system functions are performed through its large, 12" display with vivid multi-touch color controls that instantly respond to your touch.
Specs
3 Roll Color/B&W Print Color/B&W printer & KIP system touchscreen
3 Roll Color/B&W Print/Copy/STF with Color STF Color/B&W printer with B&W/Color KIP 2300 scanner
System Stands Color scanner stand (optional)
Stacking Systems (standard) KIP 940 stacker
Folding Systems (optional) KIPFold 2000
General
Description High production color and B&W wide format print/copy/scan
Type Electrophotography (LED) with organic photoconductor (OPC) and closed toner system
Speed Up to 4,200 sq. ft. / 390 sq. m per hour in B&W - Up to 3,500 sq. ft. / 325 sq. m per hour in color
Warm Up Time Less than 6 minutes from power on
Configurations Printer or multifunction system (print/copy/scan)
Toner Four color (CMYK), dry toner. Printed images are UV lightfast and waterproof
Electrical Requirements 220-240 V, 50/60 Hz, 20 A
Power Consumption Standby: 0.8 kW, Printing: 2.0 kW, Sleep Mode: 10 W
Dimensions 54" (w) x 31" (d) x 57" (h) to top of printer / 1,376 mm (w) x 790 mm (d) x 1,450 mm (h)
Weight 1,190 lbs. (540 kg)
Printer
Print Resolution 600 x 2,400 dpi
Paper Capacity 4,500 sq. ft. / 418 sq. m 3 rolls + cut sheet bypass
Output Sizes Width (roll media) 11" - 36" / 297 mm - 914 mm
Output Sizes Length (roll media) 8.5" / 210 mm minimum, 130' / 39 m maximum
Paper Weight (roll media) Bond: 18 – 40 lb. / 64 - 150 gsm, Vellum: 18 – 20 lb. / 80 - 95 gsm, Film: 3 – 4 mil / 75 micron, Gloss: 32 lb. / 120 gsm
Multi Sheet Bypass Automatically feeds up to 50 sheets of 20 lb. bond / Maximum sheet size 18" x 24" / Minimum sheet size 11" x 17"
Single Sheet Bypass Up to 32 lb. bond / Maximum sheet size 24" x 36" / Minimum sheet size 11" x 17"
Media Types Bond, translucent bond, film, double matte, double matte, clear film, weather proof banner film, waterproof bond, film white opaque
adhesive back/6 mil, film clear adhesive back, Blue Back, bright fluorescent bond, (yellow, orange, green, blue), fusion banner media
KIP 940
Specifications
KIP 940 Print System KIP 940 Print Copy & Scan System
KIP is a registered trademark of the KIP Group. All other product names mentioned herein are trademarks of their respective companies. All product
features and specifications are subject to change without notice. Complete product specifications are available upon request. © 2015 V07/07/15-US
KIP is a registered trademark of the KIP Group. All other product names mentioned herein are trademarks of their respective companies. All product
features and specifications are subject to change without notice. Complete product specifications are available upon request. © 2015 V07/07/15-US
Controller
Controller Type Embedded with Windows 7 CPU: Quad Core
Memory 3 GB
Compatible File Formats
Raster Color: TIFF, JPG, JPG2000, PNG, BMP, GIF, TGA, RLE/RLC
Vector Color/B&W: HPGL, HPGL/2, HP-RTL, Postscript (PS/EPS), Adobe PDF, Autodesk DWF, Multipage PDF & DWF
Raster B&W: TIFF Group 3 & 4, CALS Group 4, Grayscale TIFF, CIT/TG4
Vector B&W: Calcomp 906/907
trical & Environmental Requirements
Weight 1,190 lbs. / 540 kg
Dimensions 54" / 1376 mm (w) x 31" / 790 mm (d) x 57" / 1450 mm (h), (stacker not included)
Input Power 1x 220 V – 240 V 50/60 Hz, 16 A, 1x 110 V - 120 V 50/60 Hz, 20 A (with Printer & Stacker)
3x 110 V - 120 V 50/60 Hz, 20 A (with copy/scan system)
Electrical Receptacle Nema 6-20 R, Nema 5-20 R
Network Port One RJ-45 port-CAT5 or higher. LAN must be rated at 100 / 1000 mb
Power Consumption 3.0 kWh (printing), 1.0 kWh (standby)
Acoustic Noise < 65 db (printing), < 55 db (standby)
Room Temperature 55-85°F / 10-32°C
Site Survey KIP 940 site survey documentation must be completed prior to installation